Wednesday, March 16, 2016
March-April 2016 FABB Newsletter
March-April 2016 FABB News
A bi-monthly publication of Fairfax Alliance for Better Bicycling
FABB Meets in Mason District on March 16
The March FABB monthly meeting will be held at Poe Middle School, 7000 Cindy Ln, Annandale in the Mason District. The meeting starts at 7:30 p.m. on Wednesday, March 16. All cyclists are invited to attend and discuss how we can make the district more bike friendly. As we develop our priorities for the coming year we want to hear what you think are the most important projects in the area.
FABB Members Attend National Bike Summit, March 7-9
Several FABB members attended the three-day
National Bike Summit
sponsored by the League of American Bicyclists in Washington, DC. During the Summit they were able to network with other Virginia advocates (BikeWalk RVA, VBF, BikeArlington, etc.) and others from around the country, learning and sharing about their mutual efforts. To advance our work in Fairfax County, the FABB attendees chose to focus on workshops to learn about the
Bicycle Friendly America program
,
Mayor's Challenge for Safer Streets
, bikeshare and
Vision Zero
. They also learned about bike education in schools and new counting/data collection methods. On the final day they joined hundreds of cyclists on Capitol Hill for Lobby Day.
Fairfax Embarks on Plan for Better Bicycle Access to Vienna Metro Station
Fairfax County Department of Transportation recently held a meeting to ask people their thoughts about how to improve bike access to the Vienna Metrorail Station. The meeting was the kickoff of the
Vienna Metrorail Bicycle Access Study
. After a brief presentation, about 20 people gathered around maps of the station area to mark where improvements such as protected bike lanes are needed. The contractor, VHB, will take that input, conduct field work, and develop detailed recommendations. The study will be completed in June. Approximately $1M in project funds is available.
May Full of Major Bike Events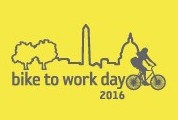 Bike to Work Day
,
Tour de Fat
, and
DC Bike Ride
are happening on Friday-Sunday, May 20-22. This year Fairfax is hosting 14 Bike to Work Day Pit Stops on May 20, and FABB will be at most of them discussing our work and handing out literature. On Saturday, May 21, FABB volunteers will help the fabulous Tour de Fat folks hold the best bike party of the year. If you're interested in helping out during either the morning or afternoon shifts, please
let us know
. DC Bike Ride is a car-free ride through the District on Sunday, May 22. Finally,
May 4 is National Bike to School Day
. Why not reach out to your local school to see if they have activities planned and/or need help with bike rides to school?
Adventure Cycling in Reston
Adventure Cycling Association, Reston Association, and Reston Bike Club held a special gathering on Sunday, March 6. Adventure Cycling staff members Ginny Sullivan and Saara Snow discussed events planned for
Adventure Cycling's 40th anniversary
:
National Bike Travel Weekend
, June 3–5, the
Montana Bicycle Celebration
, July 15–17, and
Bike Your Park Day
on September 24. They also highlighted their tours program, membership, new routes, progress on the U.S. Bicycle Route System, and other national advocacy projects. FABB discussed our work along with presentations by Friends of the W&OD Trail, Reston Bike Club, and WABA. Adventure Cycling is a great national bike organization and if you aren't a member, we recommend that you join. If you would like to join,
contact me
and I'll send you a redemption code for a free 6 month membership (new members only, 2 codes available).
Bicycle Bills in Virginia Legislature
Two bike bills are making their way through the Virginia legislature.
SB 117, the Dooring bill
"Requires drivers to wait for a reasonable opportunity to open vehicle doors on the side adjacent to moving traffic. A violation constitutes a traffic infraction punishable by a fine of not more than $50." The bill was approved by both the Senate and House and will go to Gov. McAuliffe for his signature. Thanks to everyone who wrote to your legislators to urge them to approve the bill. Thanks also to Senator Chap Petersen for sponsoring the bill and working to ensure it made it through both houses.
SB 669, the Maintenance Reimbursement bill
"Provides that cities and towns that receive highway maintenance payments from the Commonwealth based on moving-lane miles of highway will not have such payments reduced if moving-lane miles of highway are converted to bicycle-only lanes..." This bill was "Continued to 2017."
Meeting on W&OD Trail Bridge over Wiehle Ave on March 17
Fairfax County plans to build a bridge on the W&OD Trail over Wiehle Ave. A
public hearing on the project
will be held on Thursday, March 17 from 6:30-8:30 p.m. at Reston Community Center at Hunter Woods, 2310 Colts Neck Road, Reston. This is an opportunity to learn about and discuss the current design options. The Wiehle Ave crossing has been the site of
several bike crashes
in the past. This bridge will allow cyclists to completely bypass the at-grade crossing. Access to Wiehle Ave from the W&OD Trail will be via paved side trails from east and west of the bridge.
See the FABB blog for current plans and design concepts
.
Meeting on Proposed Bike Lanes in Annandale on March 21
Fairfax County will hold a meeting on March 21 to discuss plans to install bike lanes on several roads in the Annandale area as part of the summer repaving cycle. Cyclists are encouraged to attend the meeting to support the projects. Without your support these projects may not happen.
From the Fairfax County site
Mason District Bike Lanes
: "Join Fairfax County Department of Transportation staff on Monday, March 21, 6:30-8 p.m., at the George Mason Regional Library, 7001 Little River Turnpike in Annandale, and learn about proposed bicycle enhancements that can be implemented with road repaving this year. Bicycle facilities are proposed on Heritage Drive, John Marr Drive, Markham Street, McWhorter Place, and Ravensworth Road."
Labels: adventure cycling, annandale, bike to work day, dooring, fabb newsletter, national bike summit, vienna metrorail bicycle access study, w&od trail
Comments: