Wednesday, March 8, 2017
March-April 2017 FABB News
A bi-monthly publication of the Fairfax Alliance for Better Bicycling
Board of Supervisors Endorses Bicycle Parking Guidelines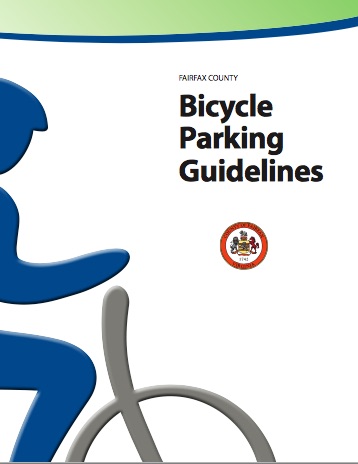 The Fairfax County Board of Supervisors recently endorsed the county's
Bicycle Parking Guidelines
that have been in development for almost 10 years. Kudos to the Board, and to FCDOT staff for their work over the years developing the guidelines and working them through the approval process.
FABB began advocating for these guidelines in 2007 when we met with Supervisor Smyth to discuss the importance of the county having guidelines for developers and others to implement safe, convenient bike parking. The guidelines will be applied to all new developments in the county. While existing developments are not required to install bike parking, they now have guidelines to use when bike parking is provided. Please refer to the guidelines when asking for bike parking.


New bike lanes -- and a sidewalk! -- connect GMU and downtown Fairfax


In February, the City of Fairfax added bike lanes to a three-block section of University Drive between George Mason University and downtown. Fairfax opted for a road diet, converting the four-lane road to two through lanes with a center two-way turn lane and 5.5' bike lanes. The road diet begins just north of City Hall and ends a few blocks south of downtown. In another piece of good news, the City also addressed a major safety hazard for pedestrians by adding a new sidewalk on the west side.
Representatives from FABB, George Mason University and other community members supported the road diet, and the City Council approved it in 2015 as a one-year pilot project to calm traffic, improve safety and increase bicycling. The new configuration will be evaluated for safety. Other road diets in Fairfax County, and throughout the U.S., have measurably improved safety for all users.


Virginia 2017 General Assembly Wrap Up


The 2017 Virginia legislative session ended with a win for bike lanes. Legislation ensuring highway maintenance payments are not reduced to municipalities who choose to reconfigure their roadways with road diets and bike lanes passed unanimously in both the House and Senate. This is an important win for bicyclists as it chips away at putting cycling needs on par with motor vehicles.
It was an odd mix of legislation this year with several bipartisan bills put forward in the House and Senate. Other bills that passed included legislation that tightened vision test standards for drivers and another that addressed dog bites. Unfortunately, bills addressing distracted driving, vulnerable users and handheld phone usage all failed to get out of committee. Read more at the
Virginia Bicycling Federation
.
Vote for FABB as Most Valuable Clean Air Partner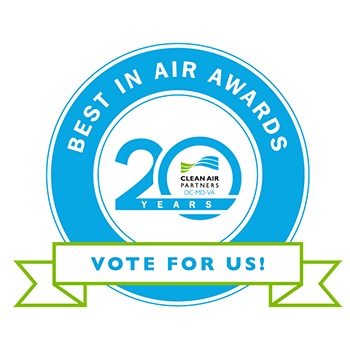 FABB is excited to have been nominated by Clean Air Partners as a Most Valuable Partner in their Best in Air awards. Clean Air Partners recognize FABB's work promoting bicycling and that more people biking would have a positive impact on our regional air quality. We need your help to win! Please
vote for FABB here
.
Clean Air Partners is a regional group working to educate the Washington-Baltimore region on ways to reduce their environmental impact and exposure to air pollution. FABB has worked with Clean Air Partners in the past, using their
Air Quality Forecast widget
to notify cyclists about Code Red and Code Orange air quality warnings.
Regional Vision Zero Summit Planned



The DC region's inaugural
Vision Zero Summit
is being held on March 31 at GW University's Milken Institute of Public Health. Hear from leaders in the Vision Zero movement and learn about the latest regional efforts in ending traffic deaths. According the summit website, "Vision Zero is a public commitment to ending all traffic deaths and serious injuries. The data-driven initiative works by designing safer streets, effective traffic enforcement, and increased public education and outreach." The Washington Area Bicycling Association is holding the summit in conjuction with GW University Hospital and AAA-Mid Atlantic.
Around the region,
Washington D.C
. and the
City of Alexandria
have embraced Vision Zero. Fairfax County has not yet enacted a Vision Zero policy. However, VDOT has adopted a
similar effort
and as we know, the State of Virginia owns our roads. It's not as rigorous as Vision Zero but is a good start.
FABB will sponsor a couple people to attend the summit so if you're interested in attending, please
drop us an email
.
FCDOT Holds Meetings on Roadway Safety Improvements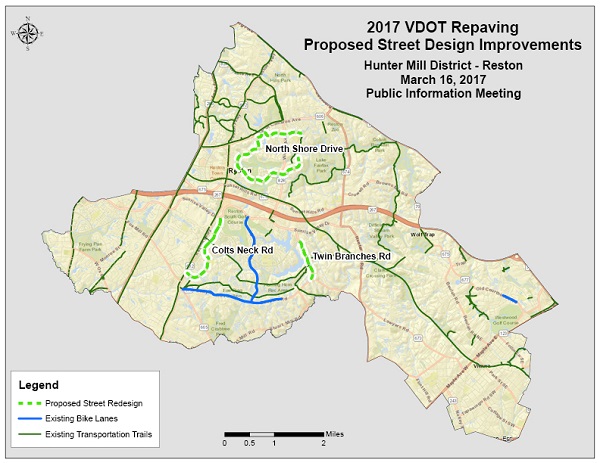 Fairfax County is off to a productive start in 2017 holding several community meetings in January and February on proposed bike lanes and safety improvements to roadways around the county. The improvements are part of VDOT's 2017 repaving program. Proposals include enhancements to
Greeley Boulevard, Hillside Road
, and
Braeburn Drive
in Springfield and Braddock districts.
In the
Mason District
, they hope to build out more of the network laid down last summer in Annandale with the addition of bike lanes on Hummer Road, Sleepy Hollow Road and sharrows on Little River Turnpike service roads. Several roads in the
Lee District
could see bike infrastructure including sections of Harrison Lane, Memorial Street, Bedrock Road, Vantage Drive, and Rolling Stone Way.
The
Hunter Mill Street Design Improvements
community meeting is coming up on March 16th. FCDOT and VDOT representatives will be on hand to discuss proposed traffic, bicycling and pedestrian safety improvements in the Reston area, including sections of North Shore Drive, Twin Branches Road and Colts Neck Road. Support is needed to ensure these safety improvements happen. Please consider attending the meeting or submitting comments. For more information check out
FABB's Reston Bike Meeting blog post
.
Fairfax County Budget Meetings Scheduled
Fairfax County is holding town hall meetings to allow citizens to learn about the proposed budget and a chance to tell your county representatives about your priorities. We encourage cyclists to attend one of these meetings to tell county representatives that our trails are in very poor condition and we shouldn't ignore needed maintenance any longer. Check out
FABB's blog for a list of town hall dates
. If you can't attend a meeting, consider writing to your
County Supervisor
and Chairman Bulova.
FABB Meeting in Oakton March 15, Falls Church in April
Join FABB at our monthly meeting on March 15th to hear from Fionnuala Quinn about the great things going on at the
Bureau of Good Roads
. We'll also discuss the latest bike news and county update. FABB's meeting will be held at the Oakton Public library (10304 Lynnhaven Pl, Oakton, VA), starting at 7:30.
Mark your calendars! In April, the FABB meeting will be in Falls Church. We're meeting at the City Hall Dogwood Room, 300 Park Ave. Hope you can join us.
FABB Board Convenes for Annual Strategy Session
FABB's Board of Directors met on Saturday, Feb 18th for a strategy and planning session. This half-day working meeting included a review of the 2016 results before outlining our goals and objectives for 2017. Additionally, the team took some time to conduct a SWOT (Strength, Weakness, Opportunity, Threats) analysis to help identify areas of growth. The objectives and activities discussed support FABB's goals of expanding outreach, advocacy and public support throughout the County.
The board will review this plan in six months to assess progress and make updates as needed. A high-level version of the plan will be shared at an upcoming FABB monthly meeting!
FABB at SpringFest 2017
FABB will once again participate in
SpringFest 2017
, a free, all-day celebration of Earth and Arbor Days sponsored by the Clean Fairfax Council. The event will be held April 29th and offer plentiful entertainment for children, environmental exhibitors, farmers market and much more. Temporary bicycle parking will be available. This year Springfest has a new location at the Sully Historic Site, 3650 Historic Sully Way in Chantilly.
FABB is looking for volunteers for Springfest. Are you interested in organizing rides to/from the event, or helping at FABB's table?
Contact Howard Albers
for more information.
-------------------------------------
March 6-9 - 2017 National Bike Summit, Washington, D.C.
March 9 - Burke VRE Connector Trail Meeting, 6:30pm, 6060 Burke Centre Pkwy, Burke, VA
March 15 - FABB Monthly Meeting, 7:30pm, Oakton Public Library, 10304 Lynnhaven Pl, Oakton, VA
March 16 - Reston Bike Lane Meeting, 6:30pm, Dogwood Elementary School, 12300 State Rte 4721, Reston, VA
March 22 - FABB Board meeting, 7pm, location TBD
March 28, Lee District Bike Lane Meeting, 6:30pm, Crestwood Elementary School, 6010 Hanover Ave., Springfield, VA
March 31 - Vision Zero Summit, 9am – 5pm, George Washington University Hospital 900 23rd St NW, Washington, DC
April 8 - Opening Days for Trails 5K Fun Run, 8am, Bluemont Park, N Manchester St & 4th St N, Arlington, VA
April 19 - FABB Monthly Meeting, 7:30pm, Dogwood Room, Falls Church City Hall, 300 Park Ave. Falls Church, VA
April 29 - SpringFest, The Sully Historic Site, 3650 Sully Historic Way​
Labels: bicycle parking guidelines, fabb newsletter, vision zero
Comments: