Monday, February 27, 2017
Pedestrian Killed in Reston
TSAs along Reston Parkway
According to the police report
, a woman trying to cross Reston Parkway at South Lakes Drive was killed by a person driving a car on Thursday, Feb. 23 around 6:20 p.m. The speed limit on Reston Parkway in this very residential area is 45 mph.
According to the
Fairfax County Comprehensive Plan, 2013 Edition Area III Reston
, Amended through 10-20-2015, Reston Parkway should have a speed limit of 30-35 mph in the Transit Station Area (TSA). As you can see from the map, one of the TSAs along Reston Parkway extends to South Lakes Drive.
As noted in the Post article in today's paper,
As traffic deaths soar, cities pursue lower speed limits to eliminate fatalities
, speed kills. In order to achieve a vision of zero traffic deaths, motorists need to slow down. Unlike several other jurisdictions in the area, Fairfax County has yet to take the
Vision Zero pledge
. We hope they soon will.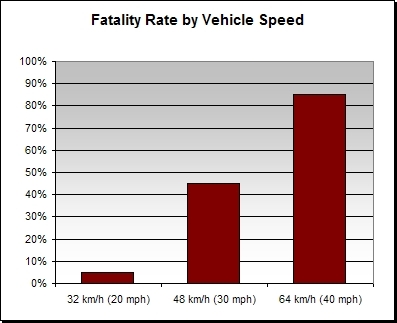 Speed kills
We plan to ask Supervisor Hudgins when the speed limit on Reston Parkway will be lowered to comply with the Comprehensive Plan for that area.
From the above-mentioned Comprehensive Plan:
The design guidelines for street types should be followed when providing new private or public roadway connections or when proposing improvements to the existing roadway network in Reston.
Reston Parkway is an example of a Minor Arterial-Type A in Reston, primarily carrying the longer-distance through traffic from adjacent areas such as the Town of Herndon and Loudoun County.
Curb to Curb Area:
Median width of approximately 8 to 22 feet (may be wider for areas with frequent and/or heavy pedestrian crossings)
2-3 travel lanes per direction (11 feet for each lane)
5-6 foot on-road bike lane per direction, if found desirable

If an on-road bike lane cannot be provided, and biking is anticipated to occur on the road, then one extra wide travel lane per direction may be desirable, adjacent to the curb, to accommodate bikes (14 feet)
If bike facilities are not desirable within the curb to curb area due to the nature of the road, then they should be accommodated on a shared-use path adjacent to the road

A target posted speed of 30-35 miles per hour within the TSAs is desirable for Reston Parkway.
Comments: