Wednesday, August 6, 2014
Fairfax County Police survey on speeding
Fairfax County Police are conducting a very short
Neighborhood Speeding Survey
. Do you see people speeding in your neighborhood? Do you wish police stopped more people for speeding? The survey is a good way to let police know what you think.
On those occasions when I drive, I obey the speed limit, literally. I don't believe that because I can go 5-10 mph over the speed limit, that it's the right thing to do. I'm in the minority because almost everyone on the road seems to go faster than the speed limit, some much faster.
This graphic shows the importance of speed on pedestrian, and you can assume bicycle, crashes. At 20mph the pedestrian fatality rate is around 5%. At 40 mph it's around 85%. Speed kills.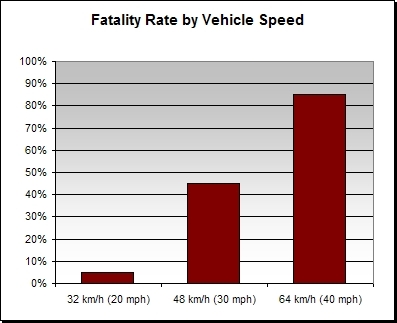 Labels: fairfax county police, speed limit
Comments:
What a waste. They should have asked which roads we feel are problems. Then they could actually do some enforcement where it makes a difference.