Monday, March 18, 2013
March-April FABB News
MARCH-APRIL 2013 FABB News
A bi-monthly publication of Fairfax Advocates for Better Bicycling
Expanded Hours for W&OD Trail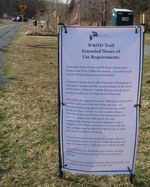 The
W&OD Trail
is now open from 5:00 a.m. to 9:00 p.m. between Shirlington and Herndon. NVRPA recently installed signs along the trail showing the new hours and requirements for use after dark. This is good news for bike commuters and other people who need to use the trail at night. Most commuters currently ride on the trail after dark because they have few safe alternative routes. Technically speaking, trail users who travel from 9:00 p.m. to 5:00 a.m. and those who use the trail after dark west of Herndon are not complying with the requirements. These new hours are experimental and could be expanded (or restricted) in the future. If you have comments,
send feedback to NVRPA
.
According to the
Extended Hours of Use Requirements
, cyclists are required to "wear reflective clothing that can be easily seen from the front and rear" and to have a front and rear light. Trail users on foot are also required to have front and rear reflective clothing and they "must carry a light or wear a flashing light." This is good advice wherever you walk or bike at night!
FABB will be out on the trail over the next several weeks offering free lights to trail users. See the
FABB blog for more details
.
Bicycle Master Plan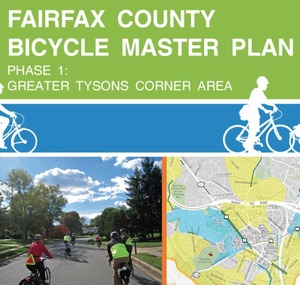 The county
Bicycle Master Plan
was completed in July 2012. We're hoping the plan goes before the Planning Commission and Board of Supervisors this spring. In February Charlie Strunk, county Bicycle Program Manager, provided an update to the Bicycle Advisory Committee: "In these last four months FCDOT staff has been working on resolving outstanding agency comments, we have briefed the Planning Commission's Transportation Sub-committee, and are now working with our own Long Range Planning Section and Planning and Zoning Department staff ensuring that content is in conformance with the County's Comprehensive Plan, Transportation Plan, and Virginia Code."
Fairfax County Parkway Trail now Open Between Route 50 and Fair Lakes Parkway
Due to
construction of the Fairfax County Parkway overpass at Fair Lakes Parkway
, the adjacent paved trail was dug up and closed for many months. Finally a replacement trail is taking shape. While parts of the new trail are not paved yet, the trail is now open. FABB tried to get the county and VDOT to provide a signed detour for trail users through a nearby neighborhood while the trail was closed, but despite numerous attempts, we were not successful. The Parkway Trail is a major commuter and recreational trail that never should have been closed without a suitable detour.
Fairfax County Parkway Water Main Construction Delayed
Fairfax Water is replacing a water main that was located under the existing Fairfax County Parkway trail just south of Fox Mill Road. The work has lasted for several years, but in contrast to the Fair Lakes project, Fairfax Water provided a detour for trail users. Construction was scheduled to be completed in 2012, but was delayed because "the original contractor was unable to complete the project and was declared in default." The new contractor expects to complete the work in summer 2014. See the
Fairfax Water project page
for details and a map.
Virginia Legislature Results
All
bike safety bills introduced in this year's Virginia legislative session
were defeated. Versions of these bills have been introduced in previous years, and we expect the bills to be introduced again next year. We hope support for the bills will continue to grow each time the bills come up and eventually they will pass. The legislature enacted a state transportation funding bill, and we will be exploring ways to use any new funds for bicycle projects, not only for road construction.
Fairfax County FY2014 Budget Released
Fairfax County is holding budget town hall meetings around the county from March 12-April 6. See a
list of all scheduled meetings
, which provide opportunities for citizens to discuss the proposed budget and give feedback to their county supervisors.
For the third year in a row there are no operating funds for the bicycle program in the
FY2014 Fairfax County Budget
. Operating funds would pay for small projects, wayfinding signage, and encouragement and education activities. On the other hand, the budget does include considerable funds for bike facilities in Tysons and Reston for improving access to the new Silver Line stations.
We plan to testify at the main public hearing before the Board of Supervisors during April 9-11 to ask for funds to implement a system for reporting aggressive drivers who harass cyclists. We will also ask for funding for BikeFairfax, an idea modeled on
BikeArlington
, to support bicycle safety education and encourage more people to travel by bike. See our
blog post on Supervisor McKay's direction to staff
to "investigate if this model would work for Fairfax County and help us achieve some of the goals of our Fairfax County Bicycle Plan."
To speak at the town hall meetings, just show up. You should
sign up online
to speak at the April 9-11 Board of Supervisor budget meetings.
2013 Bike to Work Day
Registration is now open for
Bike to Work Day
on Friday, May 17. Several events will be held in Fairfax County: Burke VRE Station, Fairfax Corner, Herndon, Merrifield-Mosaic District (new), Merrifield-W&OD Trail, Collingwood Park (new), Reston, Springfield Metro at Walker Lane, Tysons Corner Center, and Vienna. We plan to have FABB reps at each of these events to provide route information, answer questions, and to ask people to sign up for our e-newsletter.
Upcoming Events
Many communities hold health and environmental fairs such as Earth Day, Arbor Day, and so forth during the spring, and we encourage everyone to ride your bikes and promote bicycling when you attend these events.
Wednesday, March 20 - FABB Monthly Meeting
Tuesday-Thursday, April 9-11 - Fairfax Co Budget Hearings
Wednesday, April 17 - FABB Monthly Meeting
Thursday, April 18 - Vienna Green Expo
Tuesday, April 23 - USGS and Freddie Mac Earth Day events
Saturday, April 27 - Paul's Ride for Life, Clean Fairfax Earth Day event, and Be Fit McLean
Wednesday, May 15 - FABB Monthly Meeting
Sunday, May 5 - Vienna Bike Safety Awareness Day
Friday, May 17 -
Bike to Work Day
Saturday, June 1 -
Tour de Fat
Labels: fabb newsletter
Comments: