Friday, December 7, 2012
Help us make Fairfax more bike friendly
Make Your Year-End Donation to Fairfax Advocates for Better Bicycling!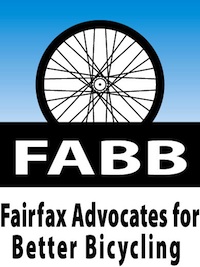 As you make your end-of-year charitable donations, we hope you will consider
donating to FABB
. FABB is an all-volunteer group that promotes bicycling as a viable transportation option in Fairfax County. FABB volunteers work with the community to make bicycling a safe, cost-effective, and easy way to get around Fairfax. We accomplish our work on a small budget so every dollar donated ensures that we can continue our efforts. In 2013, we need funding for maintaining our website, purchasing bicycle safety equipment, attending bike and transportation conferences, and expanding our bike counting effort. Please help us with a year-end
tax-deductible donation
today.
This year we have the opportunity to double the impact of your gift. From now through December 31, a very generous anonymous donor has agreed to match dollar for dollar the first $1,000 in donations.



Among our main goals for 2013:
Pass and implement the Countywide Bicycle Master Plan
Hire a Safe Routes to School coordinator for Fairfax County
Expand our bike counting effort
Conduct bicycle safety campaigns
Ensure that biking facilities are in place for the opening of the Silver Line
We were very productive in 2012. Some of what we accomplished in Fairfax County this year:
Spearheaded inaugural Fairfax Bike Summit
Played key role in developing the Countywide Bicycle Master Plan
Changed school policy so that parents (not faculty) decide whether children can walk and bike to school
Enhanced school policy to include bicycle safety education programs
Installed three bike racks in the Town of Vienna
Formed Tysons Bike Group
Assessed condition of Fairfax County Parkway Trail
Advocated for first ever sharrows in Fairfax County
Conducted bike counts at multiple locations
Held first FABB Social Rides and FABB Happy Hour
Added bike tourism information to Visit Fairfax
With our dedicated team of passionate volunteers, every dollar that FABB receives goes a very long way. Please
donate to FABB online
or send a check for "FABB" to FABB, P.O. Box 3752, Reston, VA 20195.
Thank you for your support and contribution to a better Fairfax.
Bruce Wright
FABB Chairman
Labels: FABB
Comments: