Monday, August 24, 2015
Squij Kat at Reston Market
On Saturday we visited the Reston Market at Lake Anne Plaza that runs concurrent with the Reston Farmers Market. The owners of
Squij Kat
were there selling their bike-inspired products. Some of the products are made from bike parts, like the winelinks and bracelets.
Squij Kat was founded by two female cycling enthusiasts in Arlington, Va. Our passion for biking goes beyond sport and leisure. We support smart commuting, traffic safety and an overall greener community.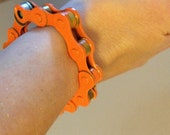 They contacted us earlier and offered to help promote FABB, so we gave them some FABB rack and business cards and invited them to attend our September 16 meeting. If you're in Reston on Saturday why not check out their booth. The'll be at the market through the end of October. We wish them well.
Labels: squij kat
Comments: